Well its time to put more stuff on here regularly. Sure you can say hey, whats going on, Training camp just started and the Sabres are in their no real news in August point of the year. Good thing I don't work on the website what would you post?
Stats about a player
from the previous year? Oh boy, you can shut it down boys. I can only imagine what they will do when they get to Andrew Peters.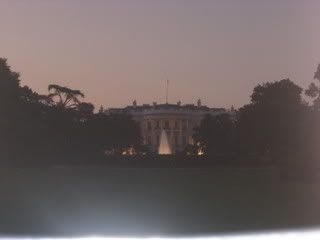 The White House is beautiful at night
I've been busy with trips and work lately and have been lazy this summer. Really why post when you aren't inspired right? Look at the Pensblog, they post all the time, now their account is closed by blogspot. Why try to draw attention to yourself. Those guys totally could make tons of money with their own site. Well tons as in 100 bucks. They have an audience, and someone must have ratted on them or something. Talk about stunned.
I could talk about the Bills and battles in camp. But really I'm not that excited yet. I'm just having to work myself up on Football. I'm sure if I headed to camp, I'd be all excited and thrilled. Ooo Marcus Stroud is huge type of excitement. Anyway, by September I'll have football fever.
The Smithsonian is actually over 20 different museums.
So when you say you went to "the smithsonian" ask which one.
I would write about the Bisons, but they have been in the tank, no one is talking about them and I haven't been to a game all year. Shame on me. Really the local sports news is pretty sad. If it weren't for blogs, all we would have is the Buffalo News and that would be a horrendous. Having Bucky Gleason decide all summer whether the Sabres are mediocre or a young team on the rise. Hopefully the dilemma will drive him crazy and have to quit.
The International Spy Museum is good times.
I guess I could talk MLB. But I really don't care about baseball right now. I don't have a team really. I'd be an Indian fan, but they aren't pleasing me. With the crap they are doing to the Bisons. So I'm a free agent. I'd root for the Cubs, but I don't know. I'm too lazy right now to follow any team and care about any team. If you have any suggestions let me know.
US Holocaust Museum, do it, its a fantastic museum.
The thing is the only thing I care about is the summer right now and doing things outside and just enjoying the nice weather. I've taken two excellent trips, and spend most of my weekend with the girlfriend. So my sports consumption really is only during work. I guess i've seen there is other stuff to do. Like weed or organize stuff. Things that single guys don't really do until they find that special lady. But I love my blog and will continue through the month of August to add stuff maybe some really good Bills previews during the month.
The Newseum is also a very cool place.
So in conclusion, I will blog more and Washington DC was great. Wouldn't live there, but fun to visit.
Sleeping panda