With the news that Mr Owens
will be getting the key to the City
today. I thought it be fun to imagine how the ceremony goes.
Scene: Albright Knox Art Gallery on a Sunny but cool day on front steps facing Hoyt Lake.
Mayor Brown: As the mayor of the great City of Buffalo, I today declare it Terrell Owens Day in Buffalo and hand Mr Owens a key to our city.
(polite applause)
Terrell Owens: Thank you Mayor Brown. Thank you to the city of Buffalo for welcoming me with open arms. And I will repay you come this year. When TO brings a championship to Bills fans. This is the perfect place for me to receive this honor, since I am a work of art.
(Starts flexing muscles) (Tweets what he's doing)
Thank you again to Mayor Brown, the City of Buffalo and Bills fans everywhere. Get your Chicken wings ready. Because we are gonna put on a show this year.
(Screams of excitement from delusional Bills fans in attendance)
TO: Mmmm, This gallery looks interesting I wonder whats inside. TO loves him some art.
Security Guard: I'm sorry but the Gallery is closed this week, because of cost cutting measures.
TO: But I have the key to the City, and I should be able to get in everywhere.
Security Guard: Mmmm, ok, but don't touch anything.
TO: Don't worry about that, you'll have to worry about the art wanting to touch TO.
Guard laughs, asks for autograph
TO: Mmm interesting works of art. For a gallery in Buffalo, there is a decent collection.
Van Gogh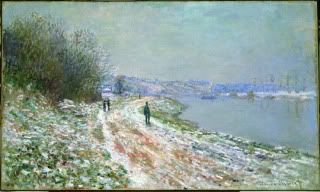 Monet
de Koonig
TO: So many classic artists, mixed with contemporary works. TO finds this very fascinating. This would be a great place to have a date on
my new Reality show
.
TO: Mmm whats this room.
(TO walks into the Mirror Room)
TO: OH MY GOSH! This is the greatest work of art ever. A Room full of TOs. I don't know what to say, its so beautiful.
(Starts crying)
1 hour later
Security Guard: Mr Owens! Are you okay?
Owens doesn't respond
Security Guard: MR OWENS!!!!! DO YOU NEED MEDICAL ATTENTION!!!!
No response
Scott Berchtold: (
comes running
) Its okay, its okay. He is just marveling at himself. We went to a carnival and they had those funny mirrors and it was the same thing. Just let him be, and he'll eventually have to Tweet or call somebody.
Security Guard: Oh man thats kinda weird.
Scott Berchtold: Well TO loves him some TO. We're lucky he doesn't go Cory Mcintyre on us.
Security Guard: Oh Man gross.
Scott Berchtold: Its gonna be a long season.