A Picture that frightens Bills Fans
Well last week the
Bills held a rally
in Toronto to
promote their series of games.
They sent the Jills and the team MVP( in my eyes) Brian Moorman. (
ed note. Brian how could stab the fans in the back. I thought you were more then a Yes man.
) Well according to the Bills in Toronto blog, the whole event was a success. YAY! Wait, no BOOOOOO! I can't decide whether thats good or bad.
The Jills, who performed and mingled with downtown commuters at Brookfield Place (Bay and Front streets), were also joined by Bills mascot Billy Buffalo.
"I think it is safe to say that Toronto has Bills fever," said Sarah, a Jills member who was born in nearby Hamilton. "The excitement here is palpable."
Wait there are Canadian Jills? They have infiltrated the ranks. They must be stopped. I had Bills fever once, but thank god you watch them play a little, and its all cured. And if the Bills move, does Billy Buffalo's name change to Billy Toronto?
"I'm really excited about our upcoming games in Toronto," said Moorman. "I am a punter, so I'm a little more excited than most of the guys to have a roof over the field, but the whole team is really excited. This is a beautiful city."
What are you trying to say Brian? Buffalo isn't beautiful? You want a roof? Who are you, and where did you come from? I thought I could trust you and you'd just sell us out for a roof? Ill show you a roof.
I know the money is helping the franchise, maybe buy more players, be a more competitive team in this league. But it doesn't take away the fear the team will move. I like the fact I can see the NFL 20 minutes from here. That its affordable, in a non affordable league. But what can I say the times are a changing, the blue collar league is turning into a game for the corporate suits. Well until the players take a firm stand in what they want. And demand more. They must see that all their contracts are never really honored and its just smoke and mirrors. They know they are being led along by a owner stooge in Gene Upshaw. They break their backs for this league and find out 10 years later, the union wants nothing to do with them. I love football, but part of me wants a strike, I want the NFL to feel the pain and I want them to suffer. Show the Fans what they are missing on a gorgeous Sunday afternoon in the fall. But I know a strike will only benefit the owners and not the Players. Management has the cash to outlast the players.
But what am I, a small market fan, in a large market league. We don't matter. The suits matter. And I'll watch my team move a couple hours north, push ticket prices to what I can't afford, and the wait will be forever. I'll have to decide to turn my back on years of fandom and the players I root for, or to suck it up and be a Toronto Bills fan. I hope its not soon, because I know they won't give Buffalo another franchise. But I guess I can enjoy the fall foliage then, and get stuff done on Sundays. Because I won't want to watch the Toronto Bills vs the Patriots. Because I won't want either team to win.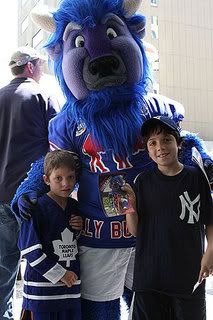 Yuck, a Leafs fan next to Billy Buffalo.