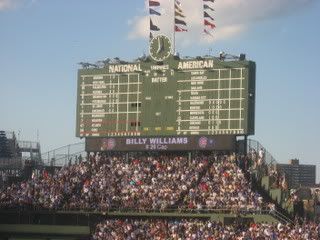 It was Billy Williams Cap night, no I did not get one.
Well a post thats waaaaay overdue, but its time I should talk about the highlight of the trip to Chicago. That was seeing a Cubs game. I got the tickets on Ebay since you can't order tickets online for 2 people. Which seems dumb, but anyway, I got some and didn't have to overpay, and they were better then Stubhub at the same price. But these tickets are one thing I made sure I had packed, made sure I always had them and no housekeeper took them. But they were for a Tuesday night game against the Atlanta Braves. This would also be my 2nd ever major league game. The previous being a Pirates Reds game several years ago.
We took the Red line up to Loyola of Chicago, because my friend loves fellow Jesuit institutions. And It was nice, until we really walked around and saw the best part of the campus, it was right on the lake! I was like wow I could totally go to a place like this. Right on a rail line and a beautiful campus. Makes Canisius look like crap. Anyway.
We headed to Wrigleyville to eat somewhere and found a place called
The Darkhorse Gril
l. So we got something to eat and I had some old styles. And we got ready for the game. Its weird to be in a Steeler bar in Chicago. But I recommend the place, since its a block down and not as busy as the Harry Carey Tavern. Enough talk of that, time for the game. We head down Sheffield and get into Wrigley Field.
The atmosphere is great and theres people everywhere, not like a Bison game, more like when we walk around Fenway before a Sox game. This is why there needs to be more things around HSBC arena, the atmosphere would be awesome.
Where our seats where.
We sat by the vistor bullpen under the upperdeck, and just like the Upper Blues in the Aud, they had TVs showing replays. Awesome. But it was a beautiful day, so the benefit of hiding from the rain, didn't matter. There was a pole right between the mound and home in my viewing of the game, but that didn't matter.
Theres the pole
Booo, Braves wearing their weird blue uni's
Gorgeous ballpark on a gorgeous night
Well Ted Lilly started very shaky and the cub faithful were weary, but they got behind him and when he got out of jams saluted him. He would soon find his game and pitch very well. Tom Glavine would not, and started to give up hits till he finally got hurt in the 3rd. I'm not really a Cubs fan, so its interesting to see the fans love when the player gets up there. Guys like Geovany Soto, who I really never heard of, but loud cheers every time he got up there. Fukodome is a new fan favorite. Along with the usual ones, Ramirez and Derek Lee. The Cubs showed through the game they are a better team and there is no shock why they are so good at home. The support is fantastic. If I played baseball Chicago would be on the top of my list.
Cubs threatening again.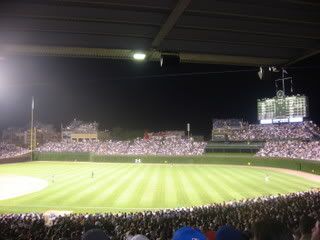 Reminds me of the lighting in the Field of Dreams Ballpark
Well the Cubs seemed to have a comfortable lead, until the mid relief gave up some runs and the Atlanta fans started the chop. It was weird hearing the Tomahawk Chop chant in Wrigley. A lot more Braves fans then you would imagine.. But our hero Soto, got up in the 8th and hit the game ending 3 run homer. Which lead to a rather loud cheer. At this point it was 10 to 5 and the game was out of reach for the horrible on the road Braves.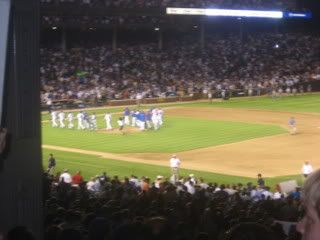 CUBS WIN!!!!!!
But the best part game right after and they played the cubs win song. Go Cubs Go, it maybe lame, but its rather catchy and a lot of people sing along with it. And the most shocking thing, the train home wasn't packed. That was nice. But without any delay. Go Cubs Go
Yes its gonna be in your head all day long.