Mr Myers later put Bettman in his suit pocket.
Well sure the Sabres are picking more guys today(picking up more picks as we speak) and some of them might turn into household names, but it will be the two from Friday that will have the most expectations. First is the giant above Tyler Myers. When the Sabres traded up, you'd go mmm, what are they doing. Then they announce their pick and you see this giant head up on stage and everybody looks up at him. Lindy looks him over and thinks oh yeah I could use a kid like this.
He's the one thats probably gonna take a few years to hit the NHL, but thats fine, the Sabres have the time to let this kid develop and be a wrecking crew in the AHL. You the kind when he finally puts on the sweater, fans will be super excited.
Very fluid skating
He's not the offensive defensemen that many Sabre fans want, but he seems to be the stay at home and make sure the net is clear.
My hope he can be: Henrik Tallinder but bigger
Fear: The return of Mike Wilson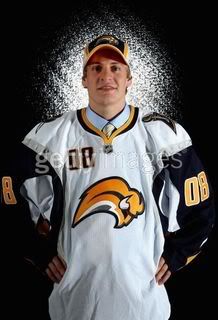 Hello Ladies, Tyler Ennis is here.
So after drafting a giant, they draft a little guy who is more on the goal scoring side. He's about 5-8, so obviously the Danny Briere comparisions come up. But its shown that the little guys with heart can make it in the NHL. Looking at his stats from this year they are pretty impressive, for a good WHL, 43 goals and 90 points in 70 games. I'll take half that production. Obviously he'll be in junior next year or maybe Portland. But they can let this kid grow. Well get better as a player. Hes short, but thats not to bad. Video highlights
Wait is that Luke Schenn he keeps skating around?
Hopes: Danny Briere
Fear: Derek Plante
Wait so they drafted two guys named Tyler? Mmm thats kinda odd. Lets up the two of these guys are the future of the Sabres. But I'm hoping more for the Free agents that may come in, then guys who may never pan out.
Well Monday I'll recap the other guys taken, including the Minnesota High Schooler they took in round 3, who apparently was born in Kansas? And hopefully some trades. Well player trades.