Meet your new Portland Pirate!!!!
Just kidding, well thats where he'll be playing next year, but the
Sabres signed Tim Kennedy
to a Pro Deal on Sunday. I guess its a 2 year deal, worth 635k a season, which seems like a lot for a college hockey player. I know he had great stats and what not. But does college hockey signal immediate success. I heard he was asking for a lot. So I guess they did the old Brian Campbell deal, short term with more money. Which is smart. Guys play hard for new contracts. The Sabres best recent success came with tons of guys with 1 year left. Why not have a whole team with those kind of guys. You might win a cup, with guys trying to make bank.
But once again the farm team next year, should be really good. Unfortunately for Sabre fans it won't be an hour away anymore. So Tim should be ready to wear this next year.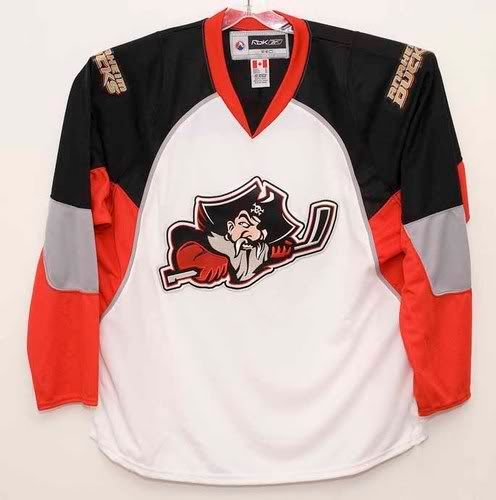 Well minus the Ducks part on the sleeves.
Those are pretty sharp, right? Thats a good looking Pirate, kinda looks like the Bandits logo. Its much better then these Milwaukee Admirals Sweaters
Yarrrr! Hehehe, these make me laugh.
Well anyway, its good to see Darcy working. Now its onto the Draft, signed restricted free agents and trying to pull in any free agents to make this a playoff team. This town won't accept another non playoff year. We aren't Toronto.