Well everyone's favorite Bills Running back and traffic infraction violater is back with
a new post
in his blog. Yes a blog. Where he has a new contest for the readers. Where they have to display your "beast mode"
What's up youngstas...I plan to make 2 kids very happy dis xmas...you wanna know how??? good imma tell u. I'm havin a "I'm ya daddi boi toy give a way." All you have to do is send your best "beast mode" impression to my yardbarker blog to play and your chance to win....then I'll announce the winner on marshawn23.com on Monday, December 22nd. So make sure u go to my website to find out if u won.
The whole passage has a red line underneath it.
So how does one do a Beast Mode impression?
Is it a face impression, or an action like running over guys into the endzone? Mmm so I guess my candidates for Beast Mode are.
The UB Bulls. Put a whipping on the undefeated Ball St Cardinals on Friday. Taking the MAC title and getting a bowl bid. Really the best job in raising up a program led by Turner Gill. Too bad he is probably gone after this year. It would be smart for UB to show him the money and convince him to create a big time program here. But UB probably doesn't have the cash on hand.
Paul Gaustad. The little I watched of the Penguins game I saw, the guy was all over. He's healthy and turning into Beast Mode. The one play that just made me go wow, was in the third on a penalty kill, on the faceoff, he won it and just with everything he had pushed it out of the zone. Huge time killer and it was the type of effort the Sabres need to win. Plus he just hammered a rookie, with a welcome to the NHL check.
Thomas Vanek. 20 goals already on the season. Playing like no one can stop him, when he wants to score. Lazy Vanek? Not anymore. The guy is a stud and we have a superstar locked up in his prime. Thanks Kevin Lowe.
Dick Jauron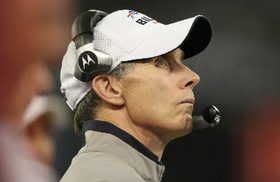 Um Nope.
I'm not sure if that is what Marshawn is looking for a Beast mode contest, but those would be mine.
Make sure you get your entries in, who knows what the prize may be. Maybe the head coach positition of the Buffalo Bills!!!!