So Saturday night was another bout by the
Queen City Roller Girls
, of course me and the Girlfriend took the trip to North Tonawanda. I've been a big fan of this upstart organization. Its a fun time and by the crowd sizes the word is out. Before there were empty seats, now they built a bleacher.
A shot from said bleachers.


This was a matchup of the Devil Dollies (0-1) vs the Suicidal Saucies(0-0) Defending champions. The saucies were missing key players from last year, but still had a core of good players. The Dollies were a group that needs more time together. It was going to be an interesting matchup since one team played already and one hadn't. So there was going to be some feeling out in the beginning. The beginning was slow and took time to get together. But it was clear, the saucies had the better team and just seemed the Dollies were off. Never could really get lead jam and just fell behind early. Not a lot, but enough.
I'd post more action shots, but I'm not quite good at them. So
heres a link
to a page to really great action shots of the bout. But the action was pretty decent, though the crowd was a bit quiet. The first bout seemed a lot louder. This was pensive. People didn't know what to expect or what to do. Other then the occasional oooooo, or look out!
Though did have a good angle of the start of every jam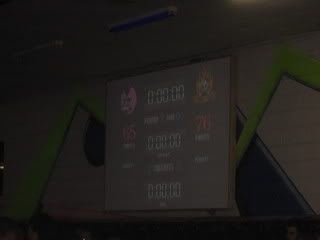 As you can see the Saucies held a 11 point lead after 2.



Then a concert broke out, go Pink Tiger go!


Time for the 3rd to start. At the last bout the third was loud, exciting and every second mattered. It was probably the best period of seen of the derby. This 3rd. Controlled. The lead was never in danger and the Dollies never pulled closer. Thats because the Saucies have found their new go to Jammer in B'kini Whacks. Mexcali Bruise was the reason they won last year and this year, it will be this girl that will lead them. She's quick, agile and can get through the pack. But after 20 minutes the Saucies walked away with a decisive victory dropping the Dollies to 0-2 on the year.
This bout was less fun then the first, but that happens. But the crowd was bigger. It just needs a big loud crowd. That will take time with more people that know whats going on.