Well after missing the last bout a win by the Saucies, who haven't lost a bout yet, it was a rematch from the first bout of the year.
The Nickel City Knockouts
vs
The Devil Dollies
. So it was time to make a trip to North Tonawanda and the Rainbow Rink. We walk in and its jammed packed again. Last year, it waned in attendance as the year went on. This year, the attendance sure isn't waning.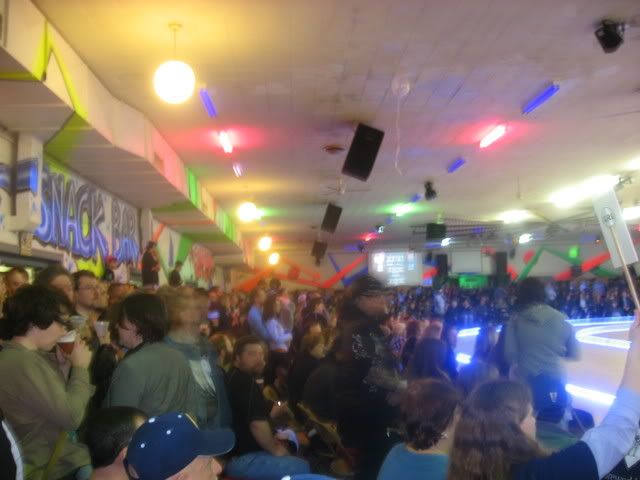 Nope not one bit. This is turning into a very successful league who might be outgrowing its confines. I would hate for it to move to say a real hockey rink, say Buffalo Sports arena, since it may lose some of the fun closeness. Though viewing it at a hockey rink might be better viewing. I'm sure they'll be looking into new facilities next year. Plus putting it in the city, may draw even more people.
Well unlike the first bout, this wasn't going to come down to the last minute. The Knockouts took an early lead and built on it, and just kept up a solid game plan. The additions of
Dewey Decimator
and
Ruby Revenge
as jammers has made worlds of difference. With two quality jammers they are right up there with the quality of the Saucies. Who beat the Knockouts in the last bout by 21 points.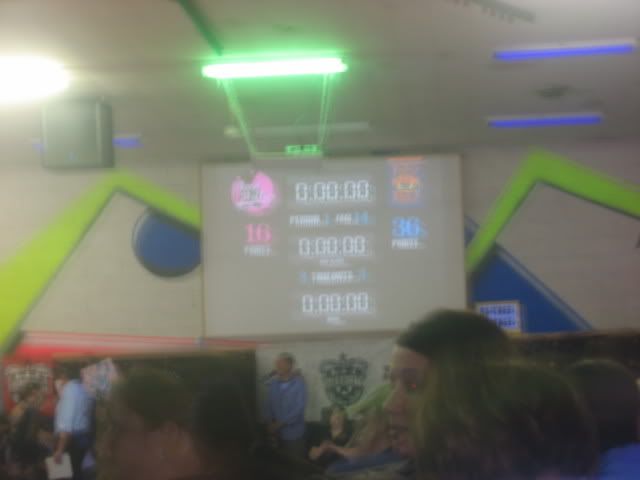 Yeah this lead would holdup
With a performance by a bagpipe band after the 1st and then a rock band after the 2nd period, theres entertainment for the entire event. Plus Baby Joe Mesi was in attendance, hey if you announce your running for state senate what do you do next? Attend a roller derby event. Well after 3 hard fought periods the Knockouts prevailed 95 -72. A big win, to have them keep pace with the devil dollies. So the standings going into the 5th bout
Saucies 2-0
Knockouts 2-1
Dollies 0-3
Next bout is May 3rd between the Dollies and Saucies. Look for a Saucy Blowout.