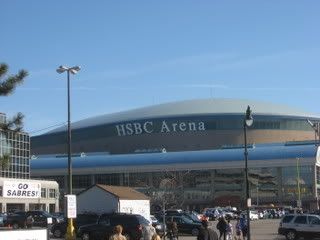 A magical place
Theres nothing better then that all day anticipation for something, tonight its getting to go to a hockey game. I love going to Sabre games. The arena has this feel to it, the smell of the ice and the sounds of the skates going up and down. Its really so much better in person then on tv. I didn't really go to many games of late. Prior to the playoff game last year, the last game I went to was Sabres vs Coyotes in 2001. I went to a lot more Canisius hockey games then Sabres. Of course those were free, so. But just the thrill from that one game I knew I had to go to more games this year.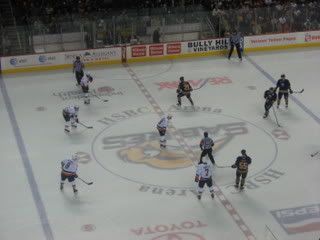 See I went to game 5 of the Islanders series
.

So coming into this year I made an effort to get to more games. It began with a coworker doing a flex pack and offering to put in for me and the games I want. I put into the Columbus game. Thinking oh yeah, they'll win that one and I love seeing teams I never see. So me and my dad went to the Columbus game and it was terrible, not the experience, but the Sabres. Oh god, it still might be their worst game of the year. Columbus is boring and the Sabres were terrible.
There would be a picture of the game, but it was so ugly, I substituted a picture of a cute cat.
Then after for my birthday, my girlfriend surprised me with tickets to a Bruins game. I very excited. And thrilled, on top of it being my birthday, but she gives me the best gift ever. Unfortunately the game wasn't as thrilling. Somehow Alex Auld turned into Patrick Roy for the night and absolutely stonewalled the Sabres. Who peppered him with shots. And every time the Sabres lapsed, Boston scored. They wound up winning 4-1. And Alex Auld gained a new fan in my girlfriend, who was a Lacrosse goalie and had knowledge of positioning. She not a big fan of Ryan Miller by the way. The loss was tempered by the great experience and happiness.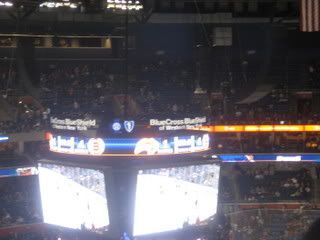 Here's a scoreboard shot for my girlfriend, who makes fun of me for taking these kind of pictures. She doesn't understand my madness.
Now tonight, Sabres vs Ottawa. I bought these tickets as a christmas gift for my dad. I wanted the boxing day game, but read the wrong date on ebay. But I won them for below ticket price. Bonus! So me and my dad and if I'm lucky The Kaleta! Shirt will be there too. So I'm excited for tonight, disappointed I won't be spending the night with my girlfriend, since it will be too late, but hopefully the Sabres will come out tonight and take about the evil sens.
Pictures will follow tomorrow, with even more scoreboards.