AP
Watching last nights
Duke Belmont game
, reminded me of last years Duke game. You know a no name school versus big bad Duke. The best part, I was at last years Duke VCU game. Its one of those personal stories that make sporting events great. Tickets to the NCAA tournament here are few and go a year before the event. But due to personal luck and being in the right place at the right time, I was able to attend the night session. Which held the marquee teams Duke and Pitt.
So lets go back in time. Its mid march I'm not sure if i got the ticket the day before or that day. But the Boss was trying to find tickets to the tournament to give out, you know for business reasons. He came upon two suite tickets to the night session. These tickets were sitting there for a couple days or so, right on the secretary's desk. I looked at them like they were a million dollars. If no one wanted them or could take them, they would go to me. I held my hopes low, to dull the pain of loss. But as the hours went by, there were no takers. I couldn't believe what happened. Two tickets to the tournament, DUKE! IN A SUITE!!!!!. WITH FREE FOOD AND DRINK!!!!!!! Jumping up and down giddy, doesn't really put my feeling in the right words. So I get my dad on the phone and say hey were going to the dance! He thought it was cool, obviously not as excited as I was, since I am a sports dork. So working was tough that day. But I got through and headed down to the Arena.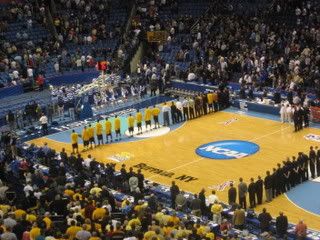 See I was there!
Well the only mission I had for the game, was to write down all the suite owners down, for future reference and of course work the suite for any business. I'm not super great at that, but I can do it in my own way. But I get in, early, no one was really there and it was another companies suite so I acted properly. The game gets started, its close, but those games usually are. But eventually Duke started to pull away. Which made the arena kinda quiet. But something happened in the second half. VCU started to make shots, Duke didn't. The lead quickly diminished, and the crowed got very into it. Which no doubt helped VCU. Which led to the final shot by VCU, after Maynor hit it, I don't know if I ever been to a sports event where it got that loud. Maybe, the Bills Jaguars game where Flutie ran it in in the last minute. But I went to the Sabres Islanders game 5, and it never got that loud. Well maybe because everyone held their breath for the final minutes. Lets relive that final shot by Maynor
WOOOOOO!!!!!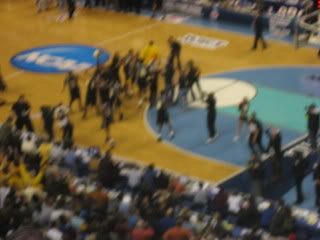 VCU was quite happy after the game, and yes very blurry.
A scoreboard shot for my girlfriend, who says I take too many pictures of scoreboards.
Unfortunately the Pitt game was a blowout after and I left early. But that night will always be special for me, since its one of those events you gotta go to. Next time the tournament comes to town, the day tickets come out, buy them. You won't regret it. Theres nothing better then the college atmosphere. The NCAA Tournament is truely a great American event and College football is missing out, if Football had a playoff, it would be a great winter event.
Enjoy the games today!