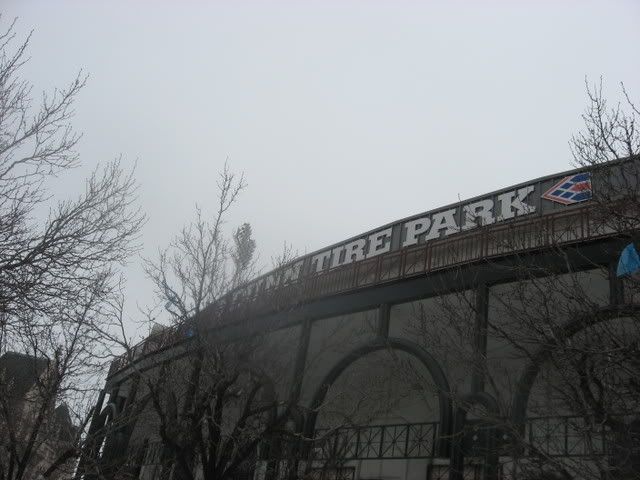 Ahh soon baseball will be played here
Well the Bisons open house was on saturday, a chilly day and with snow on the field, not real baseball weather, but still fun to get in the mood for baseball. Because baseball reminds me of warm weather, relaxation and some decent baseball. I didn't know what to expect from the Open House. But i was in the area and thought I check it out and take some pictures.
First you get all crammed through the Pettibones entrance, where you can take the elevators to the different levels of the event. There was a lot more to do then I thought. Also you get a coupon for a free hot dog and coke, neato. I decided to head down the concourse to check out the merch sales.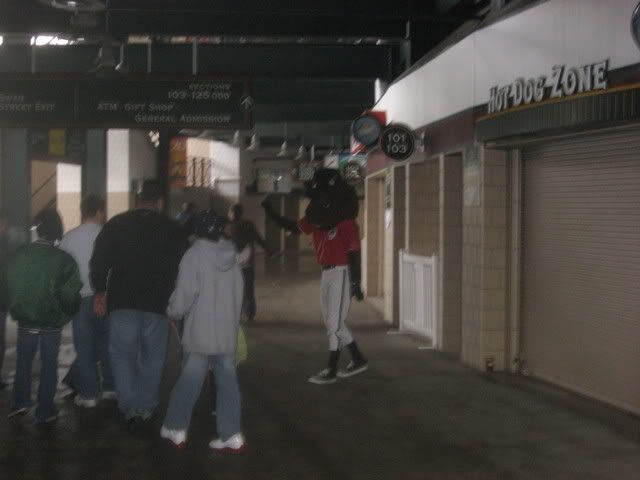 Look its Buster!!!!!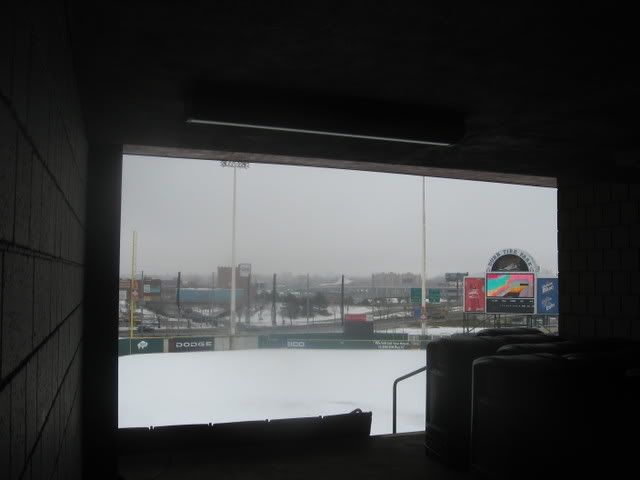 Soon this will be a pretty scene
Well the hot dogs were cooking and the stuff for sale was alright, but nothing to buy. They were showing off these new hats with like a pull out back, that could cover your ears for cold I think. I'm not sure, they aren't cool looking and only good for on field wear. I wasn't hungry yet, so I thought Lets go upstairs.
Upstairs had the all old programs and trophies and you could check out the press box and the control rooms for the video board and stuff, with someone there to explain everything. It was quite interesting and well set up.
Now here is a good view of the game.
I moved on from the Press box area to the mezzanine level, which was just a stop in Pettibones to eat and be entertained. Nothing great there, but a fun time if you were at the game. So I took the stairs down to the service level where the locker rooms are and the batting cages.
So thats a Triple A locker room, not to bad.
The mangers office, not to bad Mr Lovullo.
The batting cages were a big hit with the kids.
Well after that it was time to leave, it was a bit chilly. But it was well attended a ton of kids were there. It was a good family event, that wasn't really played up, but could be a good exposure to the kids of local baseball. Most of them don't care about the local level, but could be very entertained by the game. I just can't wait till it gets warmer. Because those early season games are brutal to attend. I have to say well done by the Bison Organization.