I had high hopes when I went in
I got the privilege of attending last nights game, I was pretty excited, thinking the Sabres were going to take advantage of a tired team. I even stopped in at the Sabre store and picked up a new hat since they were having a sale. I thought, thats a good sign. I headed to get to my seat and wait for my dad, since this was a Christmas gift.
Pretty good seats.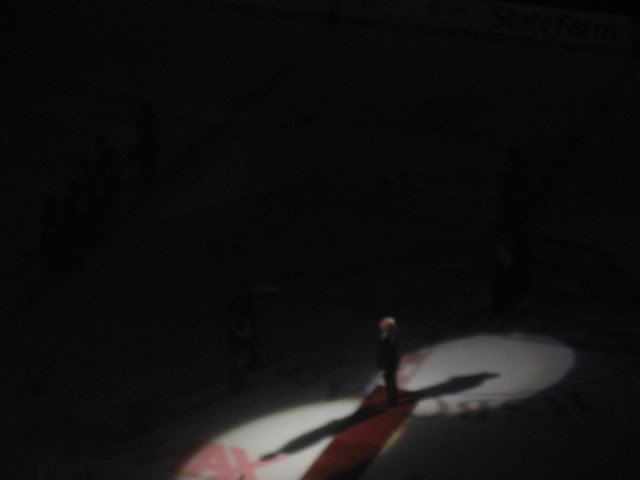 Doug Allen? Even better sign
And away we go!
Well the first period wasn't very good for the Sabres, they came out slow and timid and their usual hey we can't play 60 minutes of hockey. And of course a defensive lapse happens, the Mair line, and Christoph Schubert, who is dead to me know for trying to kill Kaleta, rockets one past Miller. That didn't make the already somewhat negative atmosphere any better. They escape the period only letting up one goal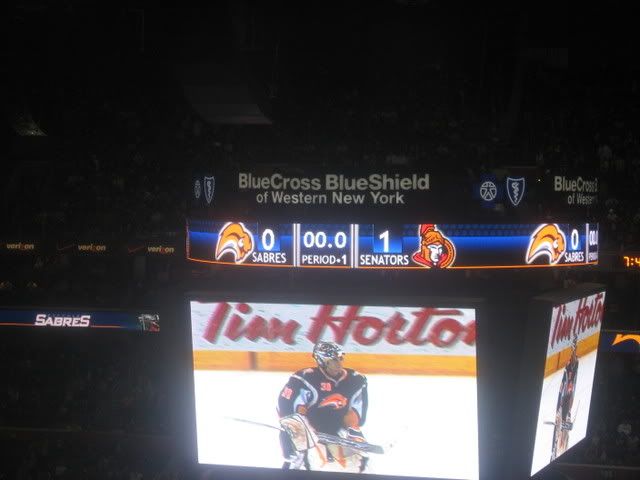 There were some boos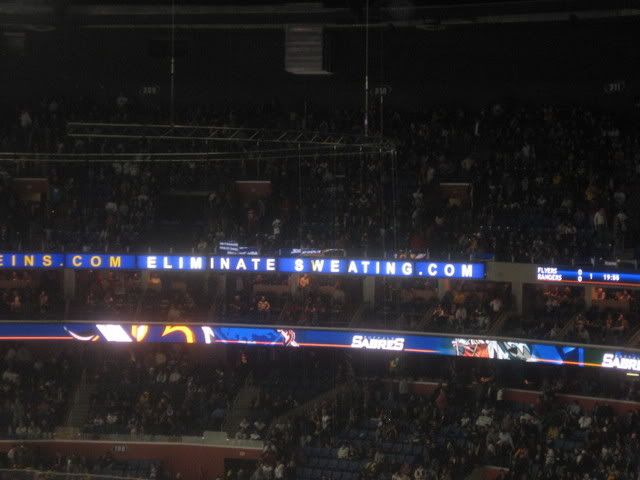 I will always associate Brian Campbell with this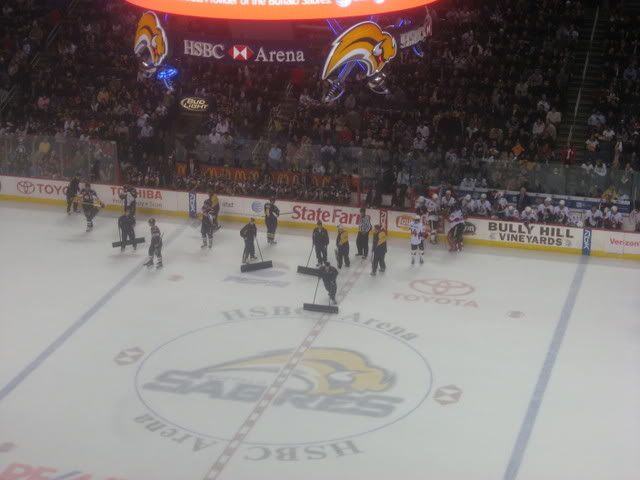 The ice scrapers are boring, they need to jazz them up a bit
The second period got started and the Sabres still seemed slow and just going through the motions. But they picked up during the period. Thanks to the reshuffling of the lines. Paille up with Hecht and Pominville, because Goose just isn't good enough. And the RAV line back together. That line provided the most spark. Stafford was shipped down to the Mair line, because honestly Stafford sucks most nights. He is the new Kotalik. Who seemed inspired last night for a change. Maybe Bernier lit a fire under him. Gaustad, Bernier and Kotalik would be a great line if everyone of them were inspired on the same night.
This just in I hate the Top line of Ottawa
Finally Derek Roy puts the biscuit in the basket, putting it past Martin Gerber, who was effing terrible on the play. This gets the crowd back in it. Though the Sabres were buzzing around and just couldn't put it in.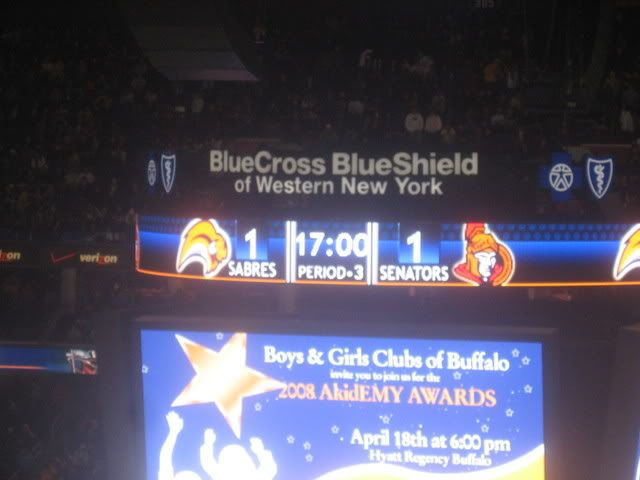 Hey did you know the Police are coming to the Arena?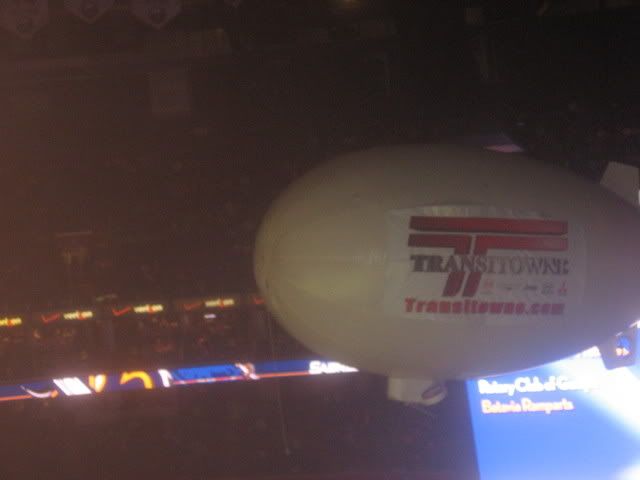 AHHHH ITS COMING RIGHT FOR US!!!!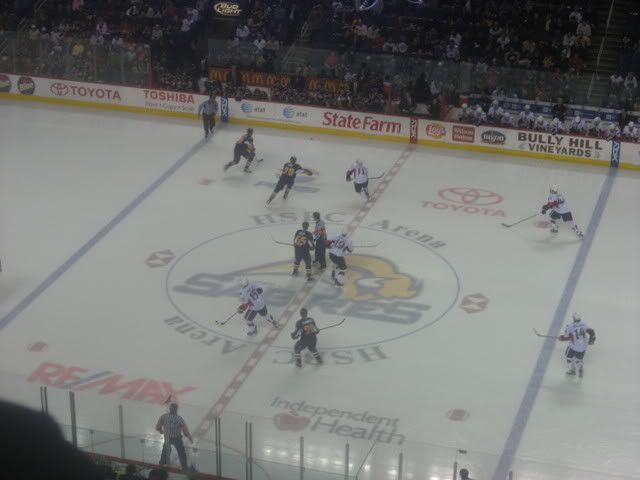 Time to get the 3rd period going!
The Sabres started off the 3rd strongly, taking advantage of a tired Ottawa team they were all over them, Derek Roy again, put it in on a nice play, and the Arena was rocking and just as they were announcing the Roy goal, Pominville puts one in, on a pretty pass from Hecht. Now the Arena was loud, thinking ok, finally were taking advantage of the team.
Who knew this was the beginning of the end?
Yes, Martin Gerber, you are terrible
After a dumb penalty by Cory Stillman, the Sabres go on the Power Play and you think heres the killer shot. But just awful play leads to a short handed goal, why Roy went after the man with the puck, when Lydman had him I have zero idea. Then shortly, bang the game is tied. Son of a bitch. The negative atmosphere is back in a hurry.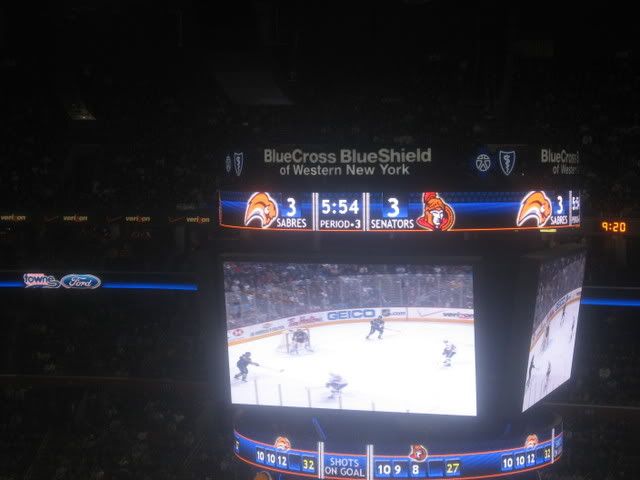 Crap
At this point I'm thinking oh please just get a point at least. But then of course a tip shot from the point, goes right in. Then a tip shot from the point, makes it 4-3 then Alfie, put its away with shot Miller has to stop at that point. And its head to the exits time.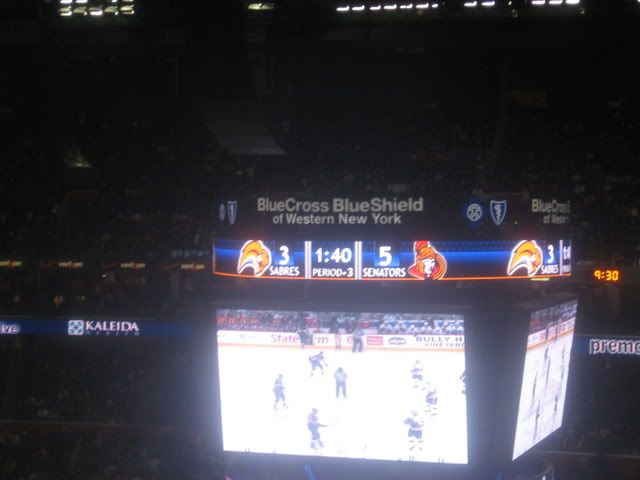 Yikes, that was quick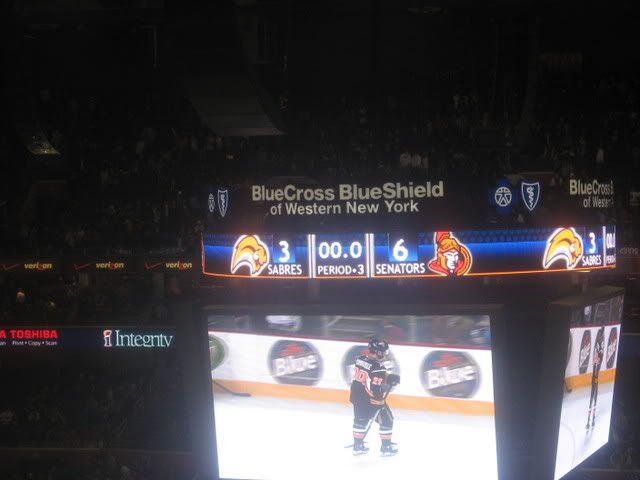 Another one for good measure
The Sabres head for the Exits too, and for a early tee time
Talk about having your heart ripped out at a game. It was happy and rocking in the third and this team collapsed again. They can't keep a lead to save their life. Its like one bad thing and they just fall apart. Maybe its better they don't make the playoffs. Make them feel what its like to watch. Get their heads together. This team is mentally soft. Too many guys take nights off. Is it coaching? I don't think so, motivation comes from inside and they need to get rid of the non motivated guys. Maybe thats why Drury really left. He saw the lazy play and said we'll never win a cup with this lineup. Resign Miller? Honestly I'll wait for next year. Lets see how he does in a contract year. Plus I want to see what Jhonas Enroth does in the AHL next season. The Sabres might have something better in the wings.

Well I guess the next step is picking teams for the playoffs. That should be fun.