Well as many Sabre fans shut it down for the season, to soften the non playoff blow. Hey if they are Bills fans, you'd think they'd be use to that feeling. I am still excited for the remaining games. These are the games that show you the true character of the guys on the team. Its easy to cruise in, like last year. Which made them soft and really not hungry. They barely got through two rounds last year, before being rolled over by the Sens. This was a weak team last year. They just scored a ton and were able to put up a big lead early. So now they are playing just to stay in it. Its basically run the table to just have a shot at maybe making the 8th spot. And they run into the buzzsaw that is the Montreal Canadians, who have handled the Sabres this year. They are a strong young team, that has grown together in Hamilton, and now together in Montreal. Mmm, kind of like this team was two years ago. But this should be a good example of what the Sabres are made of. Playing a very good team at home, after playing the night before on the road. Lets see what these guys are really made of. Anyone that doesn't show up tonight, should be shipped out at the end of the year.
The Habs
Montreal hasn't played since monday, where they held on to a 7-1 lead to win 7-5. So they are rested and obviously took the 3rd period off against Ottawa. Could it make them rusty? Could it make them fresh and fast? I have no idea. But there are a lot of young kids giving Montreal a balanced lineup. Alexei Kovalev, somehow came alive this and is leading the team in Goals, Assists, points and +/-. So he is giving them some great veteran leadership. Plekanec is also having a great year with 27 goals. But you also have to deal with Koivu, Streit, Higgins, the Kostitsyn's and Latendresse. This is team that will be tough for years. Which is good Montreal should always be good. The only thing that concerns me about the Habs in the Playoffs is Carey Price, his GAA is high, but Sv% is good. So he gets a lot of shots. And if hes not used to the every game play, that the Playoffs require. He could be their weakness.
Outlook
Well this is a interesting game for me. Montreal is fighting for first. Buffalo is fighting for their playoff lives. The Habs don't need to win tonight, but it would be great. The Sabres HAVE to win tonight. So is a desperation test. Who wants it more. And if the Sabres come out flat, then major changes need to be had. I don't care who goes. You don't win in this league, unless you play desperate. Fear that you won't play tomorrow if you don't play well tonight. The Sabres grew fat on success and it killed them this year. This game will reveal the character of the Buffalo Sabres. May it be good or bad, I would like to know.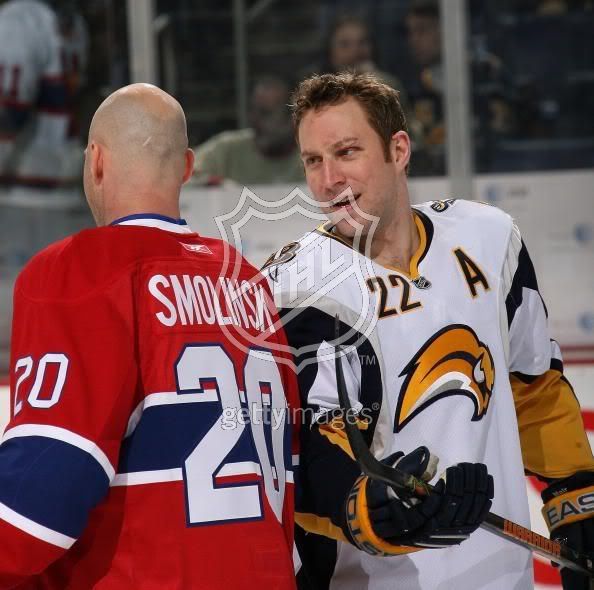 Mair telling Smolinski, he's gonna wipe that smirk right off his face. God I hate Smolinski.